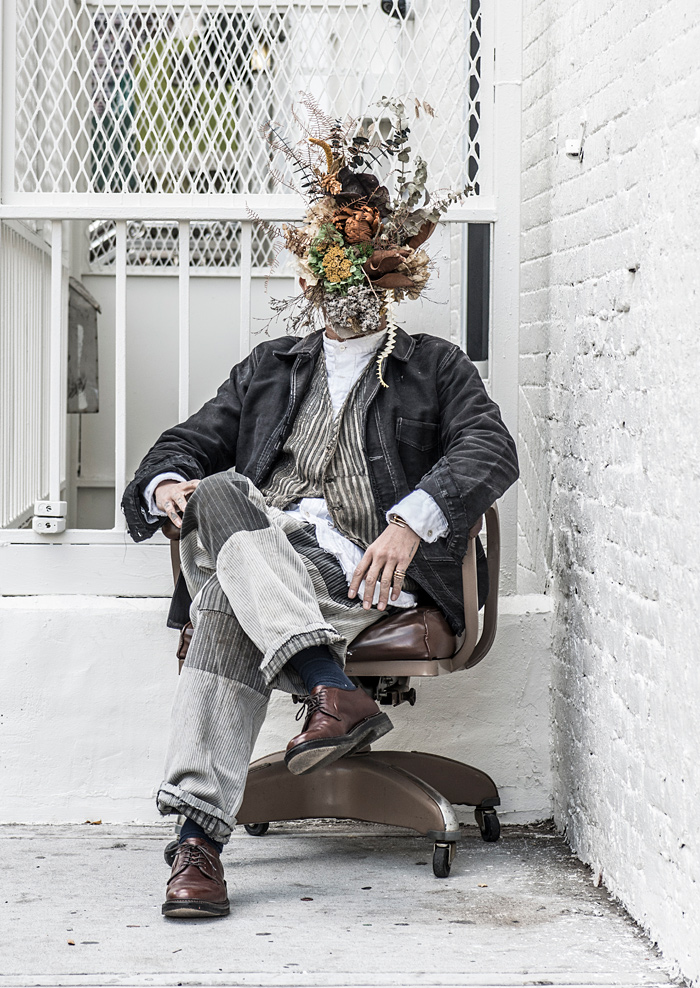 GREEN FINGERS creative director / plant artist
川本 諭
SATOSHI KAWAMOTO
グリーンがもつ本来の自然美と経年変化を魅せる、 独自のスタイリングを提唱するプラントアーティストとして活動。
自身のディレクションする植物を中心としたライフスタイルショップを、
東京、NYなどに10店舗展開するほか、ウェディングブランド「FORQUE」のディレクション、
インスタレーションや空間スタイリング、商品デザインなど、 植物のみにとどまらず、 幅広いジャンルのディレクターとしての活動も行う。
グリーンと人との関わり方をより豊かに、 身近に感じてもらえる新しいフィールドを開拓している。
Plant Artist who advocates a unique sense of style, an alluring presentation of the innate natural beauty of greenery and transformation with the passage of time.
Overseeing the direction of seven shops in the Tokyo area, Satoshi is a stylist across a wide range of genres, working not only with greenery but also with the interior styling of shops and department stores, writing magazine columns.
FORQUE, the wedding brand under his direction, offers a total look, from accessories and arrangements featuring real materials such as preserved and dried flowers to styling of the venue.
In recent years, Satoshi has held exhibitions of his work, expressing the beauty of greenery from his unique perspective. Laying the groundwork for a field where greenery is a familiar presence, he seeks to enrich the ways in which people relate to flora and fauna.
1997
東京、三宿の「GLOBE GARDEN」の立ち上げに参画
Participates in the launch of Globe Garden in Mishuku, Tokyo, going on to establish his own garden style
2002
「GREEN FINGERS」としての活動を開始
Begins operating as GREEN FINGERS
2012
新宿伊勢丹本店5 階 ステージ♯5 催事における空間ディレクションを担当
アッシュペー・フランス H.P.DECO 好奇心の小部屋「Garden Party Lamp」開催
アッシュペー・フランス H.P.DECO 好奇心の小部屋「The art of bonsai」開催
In charge of site direction for Stage #5 at Shinjuku Isetan department store
H.P. FRANCE H.P. DECO, Nook of Curiosity "Garden Party Lamp"
H.P. FRANCE H.P. DECO, Nook of Curiosity "The art of bonsai"
2013
著書本「DECO ROOM with PLANTS」(BNN 新社)を刊行
大阪- 太閤園/ 桜苑 庭園デザイン施行を担当(Design, Interior Design & FFE, Signage & Way Finding Design, Art Direction : SIMPLICITY Co., Ltd.)
アッシュペー・フランス H.P.DECO 好奇心の小部屋「CHRISTMAS EXHIBITION Satoshi Kawamoto × Astier de Villatte」開催
NY にGREEN FINGERS MARKET を出店
Publishes his book, DECO ROOM with PLANTS (BNN)
OSAKA-TAIKOUEN/OUEN Garden Design & Construction (Design, Interior Design & FFE, Signage & Way Finding Design, Art Direction : SIMPLICITY Co., Ltd.)
H.P. FRANCE H.P. DECO, Nook of Curiosity "CHRISTMAS EXHIBITION Satoshi Kawamoto × Astier de Villatte"
2014
Gap 「BLUE BOX PRESENTS.」のインスタレーションを担当
Pilgrim Surf+ Supply in Residence/BEAMS HARAJUKU にてインスタレーションを担当
FREEMANS SPORTING CLUB -TOKYO- のエントランスの植栽を担当
BROWN RICE by NEAL' S YARD REMEDIES の植栽を担当(Design, Interior Design & FFE, Signage & Way Finding Design, Art Direction : SIMPLICITY Co., Ltd.)
GANT HARAJUKU のオープニングのウィンドウディスプレイを担当
著書本「DECO ROOM with PLANTS in New York」(BNN 新社)を刊行
THE NORTH FACE STANDARD 二子玉川店の植栽を担当
In charge of site direction for Gap 「BLUE BOX PRESENTS.」
POP UP SHOP & In charge of site direction for Pilgrim Surf+ Supply in Residence/BEAMS HARAJUKU
FREEMANS SPORTING CLUB -TOKYO- Garden Design & Construction
BROWN RICE by NEAL' S YARD REMEDIES Garden Design & Construction (Design, Interior Design & FFE, Signage & Way Finding Design, Art Direction : SIMPLICITY Co., Ltd.)
In charge of site direction for GANT HARAJUKU
In charge of site direction THE NORTH FACE STANDARD
2015
RHC ロンハーマンみなとみらい店にて「GANT RUGGER」のインスタレーションを担当
UNITED BUMBOO GINZA MARRONNIEGATE にてコラボレーションイベントを開催
新宿伊勢丹『Retreat House』に出店
taka ishii gallery の植栽を担当
著書本「DECO ROOM with PLANTS here and there」(BNN 新社)を刊行
ラフォーレミュージアム原宿にて個展HERE AND THERE を開催
POP UP SHOP & In charge of site direction for "GANT RUGGER" RHC shop in Minatomirai
Opens The STUDIO by GREEN FINGERS in HOTEL EDIT YOKOHAMA
UNITED BUMBOO GINZA MARRONNIEGATE 
Limited opens "Retreat House" at ISETAN SHINJYUKU
Solo exhibition "HERE AND THERE" at Laforet Museum Harajuku
2016
緒方慎一郎× 川本諭による個展「拈華」を八雲茶寮にて開催
NEWoMan の植栽計画、館内のアートワークを担当
RAG&BONE; による伊勢丹新宿店ポップアップショップの植物のコーディネートを担当
SHIINICHIROU OGATA×SATOSHI KAWAMOTO exhibition "NENGE" at Yakumosaryo
In charge of site direction and artwork NEWoMan
In charge of site direction RAG&BONE; at ISETAN SHINJYUKU
著 書
Aji-Niwa
(エフジー武蔵)
junk garden book-garakuta styling
(白夜書房)
Deco Room with Plants
(BNN 新社)
Deco Room with Plants 台湾語版
(噴泉文化館)
Deco Room with Plants イタリア語版
(logos)
Deco Room with Plants 韓国語版
(logos)
Deco Room with Plants in New York
(BNN 新社)
Deco Room with Plants here and there
(BNN 新社)
BOOKS
Aji-Niwa
(FG Musashi)
Junk garden book-garakuta styling
(Byakuya-Shobo)
DECO ROOM with PLANTS
(BNN, Inc.)
DECO ROOM with PLANTS in New York
(BNN, Inc.)
DECO ROOM with PLANTS here and there
(BNN, Inc.)